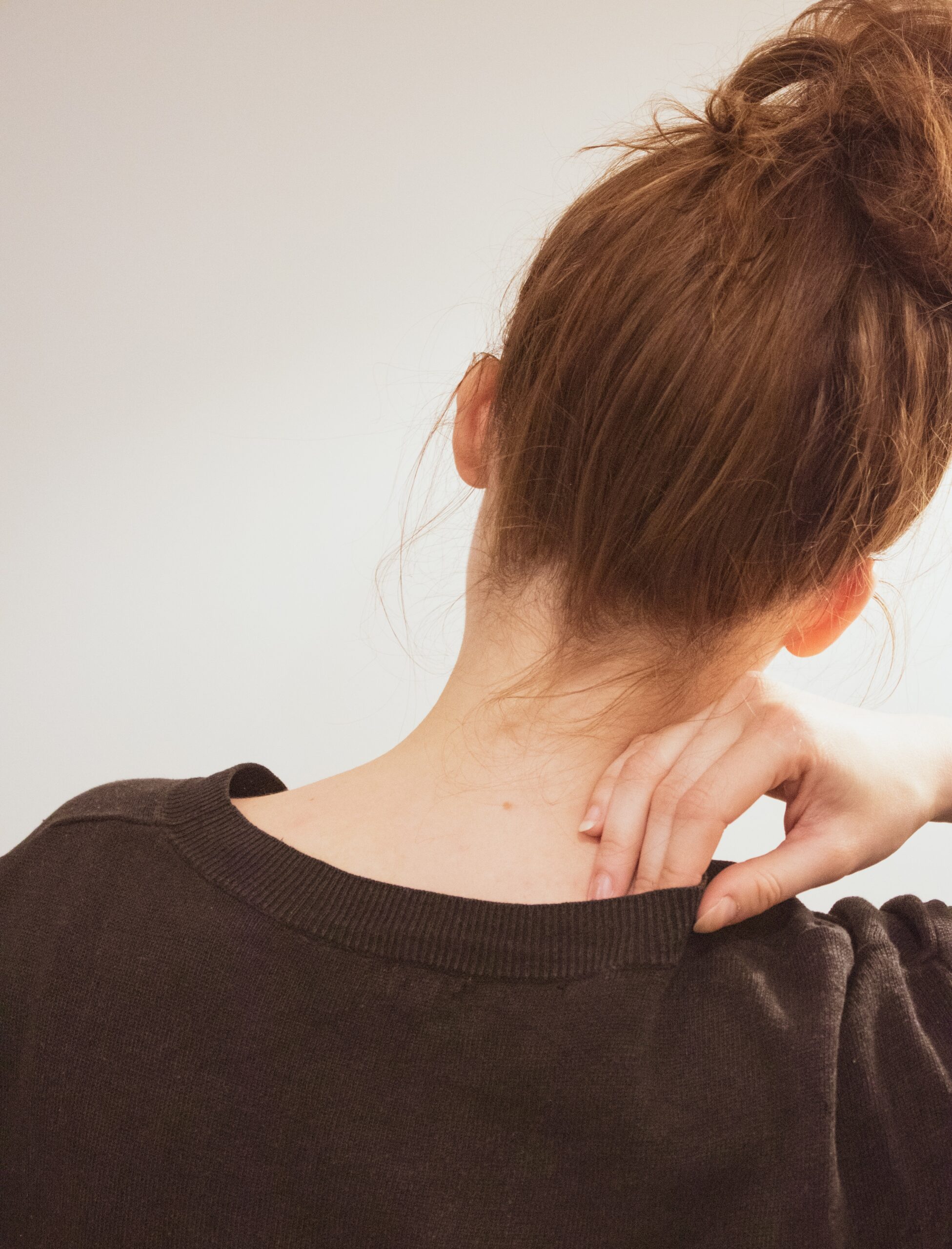 If you feel tingling down your arms or shooting arm pain, you may have cervical radiculopathy. More commonly known as a "pinched nerve" in the neck, cervical radiculopathy can be excruciating. Or it can be a dull pain. 
Firstly, no matter how it feels for you, you're bothered by it, and it affects your life in some way.
For instance, below, you'll see the typical symptoms of cervical radiculopathy.
But first, here's what we mean by "cervical." 
Imagine the back of your head where the base of the neck meets your spinal column. Your shoulders extend from your neck, and from there are nerves, tendons, and ligaments that send messages throughout your body and contribute to your range of motion. When one of those nerves is pinched or compressed, that may be cervical radiculopathy. 
For example, if you've heard of the cervical spine, that's the area relating to your neck. Seven bones make up this region, and just like the entire spine, there's a special disc that separates each bone. Those discs are known as intervertebral discs, and they help your spine stay limber. For instance, when you twist your neck to look over your shoulder, these special discs help with that mobility. 
On a related, yet separate note, you may have heard of having pinched nerves in your lower back. As you may guess, this can cause similar feelings but down your legs instead of your arms. That's lumbar radiculopathy. It's similar but usually contributes to lower body pain. For the purposes of this article, we'll stick with the upper body.
Now that you know cervical radiculopathy is a pinched nerve in your neck or shoulder region, you may wonder about the symptoms. 
What are the Symptoms of Cervical Radiculopathy? 
The symptoms vary, as you can see. 
Pain radiates down your arms. 

Numbness in your arms 

Dull pain in your shoulders/arms

Tingly sensation in your arms

Headaches

Muscle weakness

Less range of motion. 
Left untreated, cervical radiculopathy or a pinched nerve in your neck can lead to permanent nerve damage. 
According to Orthoinfo.com, radiculopathy has two common causes. In those of us of a "certain age," it's often caused by a breakdown of the discs in between bones, similar to arthritis. In other cases, a traumatic injury could cause it. 
No matter the cause, it can be frustrating and debilitating. You might find yourself having to sit out of things you want to do in life. For example, maybe you no longer have the strength to pick up your little dog, or you find yourself in the kitchen unable to pick up a stack of dishes. 
You're probably tired of the pain. 
What Treatment Options are There? 
Fortunately, there are many treatment options. 
Rest 

Ice/Heat

Spinal decompression therapy 

Traditional chiropractic treatments

Acupuncture

Massage

Steroid injections

Over the counter painkillers 

Gentle stretches

Physical therapy 
It won't be one treatment option in many cases but rather a range of things that will help. Each case is individual, so you'll want to see your medical professional see what type of treatment plan will work well for your situation. 
Yet, before you can treat it, you need to know your diagnosis, your physical abilities, lifestyle, and other specific concerns. 
According to a recent study, some benefit from manual therapy, such as physical therapy or chiropractors. This can improve your range of motion and reduce inflammation. With some lifestyle adjustments and medical care, you'll likely find pain relief. 
In conclusion, in Doylestown, PA, Dr. Jeff McQuaite helps many people find pain relief from cervical radiculopathy or pinched nerve in the neck pain. He'll conduct an x-ray and talk with you about your medical history to work out a treatment plan that makes sense for you. He offers traditional chiropractic care, spinal decompression treatment, and even non-cracking adjustments in his Doylestown office. 
Are you ready to find relief?