Not All Chiropractors Are The Same!
If you are looking for a Central Bucks chiropractor, here are 5 things that you should consider while making your decision:
You should insist that they respect your time as valuable.
That's why my office has a "5 Minute Wait Guarantee". If your treatment is not started within 5 minutes of your scheduled appointment time, that visit is free. No questions asked. After all, isn't your time just as valuable as your doctors?
You should insist on years of practical experience.
Dr. Jeff is a second generation chiropractor, with over 15 years' experience. He has taken care of over 2000 local residents from Doylestown, Jamison, Warrington, Buckingham, Chalfont and the entire Central Bucks area . While most chiropractors use less than 5 chiropractic techniques, Dr. Jeff utilizes over 12. Our practice takes care of patients as young as 6 weeks old to those in their 80's, as well as executives, professional athletes, weekend warriors and almost everyone in between.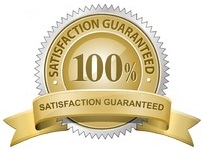 You should expect that your chiropractor offers a 100% satisfaction guarantee.
Most won't because they aren't confident in their services. We are. Just how confident are we? So confident that we offer a 100% satisfaction guarantee!
While it is not morally or ethically right for us to guarantee that you will respond to treatment, and no doctor can guarantee a cure for any disease or condition, we do believe that all patients should have assurances of what they can expect to receive when starting treatment at our office.
I guarantee that I will listen to your concerns and you will receive 100% of my attention and the best care that I can deliver.
I guarantee to only accept you as a patient if I truly believe that I can help you because I do not want to waste YOUR time or money.
We guarantee you individual attention and that you will never be just a number to us.
We can guarantee you will be greeted with a smile and complete satisfaction in the way you've been treated.
If at any time during your treatment you feel like you haven't been treated like a V.I.P., tell me and we'll either make it right or refund your money.
You should expect convenient hours and location.
We know your pain knows no schedule, so why settle for an office that only offers part-time hours? While many offices are only open 3-4 days a week, we are open 6 days, with morning and evening appointments that fit most busy schedules. We also offer emergency appointments on Sundays. We have easy access to Routes 611, 202 and 313, with plenty of on-site parking. We wouldn't expect you to have drive around looking for parking or walk an unsafe distance to get to your appointment.
You should expect that your doctor provide a risk-free way for you to try out their office and a no-pressure, affordable way to seek treatment.
A lot of offices in Bucks County charge in excess of $200 for a first visit. However we offer a new patient special rate of just $90 for your first visit and that covers everything. While we accept most major insurances, we do not base your care on whether or not you have "good insurance." We offer multiple payment plans (if necessary) that put our treatment plans within reach of every type of budget.
Your Central Bucks Chiropractor is only a phone call away:
267-247-7000
 Additional information