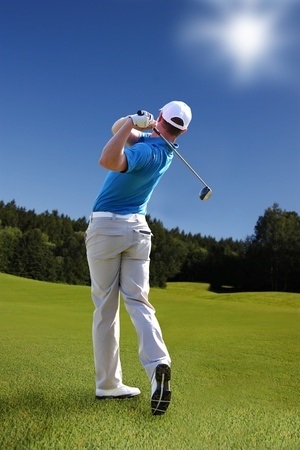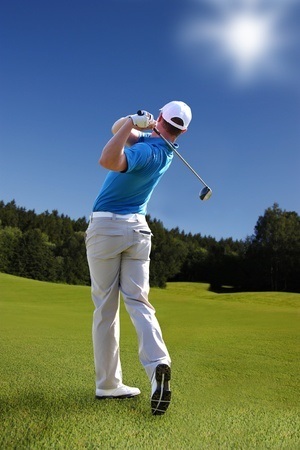 Now that it's golfing season here in Bucks County, you may find yourself playing a round or two at The Bucks Club or Pinecrest or one of our many other local golf courses. If you'd like to improve your golf game – injury free – you may find preventative chiropractic care beneficial.
After all, it's no fun to sit out golf rounds due to back pain.
It's no surprise that golfers often experience back pain. Swinging a golf club at speed of 65 mph or more twists your body in an unnatural way. Most golfers go in for the "power swing" emulating the pros but they're not in shape and don't warm up well before hitting the green. Many people also use wedges, check out this high handicap wedges guide if you're interested in learning more about golf wedges. The combination sets you up for injury. It pulls your ligaments, tendons, and muscles in this area and can end your golfing career if you're not careful.
If you are careful, then you can have a great time golfing. You can golf as much as you want, so long as you are in shape and go to your chiropractor regularly. It's now so easy for people to practice golf as well, as they can easily practice in their own homes using a golf simulator if they wanted. However, even though it's now a lot easier to practice golf, the important thing is that you stay in shape so that you don't cause an injury to yourself. You will want to make sure that you are in the best health every time to take a swing at a golf ball.
Not only are PGA golfers in better shape than most amateur golfers but Tiger Woods, Jim Furyk, and 2015 Masters Champ Jordan Spieth all see chiropractors to prevent injury. It's important that you do take care of yourself, just like Tiger Woods, Jim Furyk, and Jordan Spieth, as you will want to make sure that you can enjoy golfing as much as you can. It's also important to take care of yourself if you are planning on going on a golfing holiday at some point in the future. This is becoming the next big thing and if it's something that interests you, then you can check out a website like golfholidaysdirect.com.
Why Chiropractic Care Can Ease Your
Golf Back Pain and Improve Your Game
A 2009 study in the Journal of Chiropractic Medicine conducted a study with 43 golfers divided into random groups. One group practiced stretching exercises while the other group stretched and received chiropractic treatments.
After four weeks, the group who'd stretched and received chiropractic care were able to hit the ball farther faster than the group who'd only practiced the stretching exercises.
When you think about it, it makes sense. After all, regular chiropractic care keeps your body in alignment which helps your back and shoulders stay loose so you have greater range of movement. That means your body is ready to hit the ball faster. It also means you have less chance of experiencing "golf back pain" because your muscles aren't too tight.
How It Works
Traditional chiropractic care – like that practiced by Dr. Jeff McQuaite – conducts Xrays first to see "what's going on inside." Those will show why you're having pain. Often your muscles are out of alignment and pressing on nerves. Other times, bone can be rubbing against bone. Maybe you've got a slipped or herniated disc. There are many reasons why you could be in pain.
Once the problem is clear, he'll perform a series of adjustments on you back, neck and shoulder area to re-align your body and get you back on the golf course quickly.
In addition to regular chiropractic care, stretch your arms and shoulder well before you go out. A series of arm swings and a couple of sets of shoulder shrugs will help. After your round, take a few minutes and stretch again.
Take care of yourself so you can enjoy the Bucks County golf season. After all, winter will be here again before you know it.