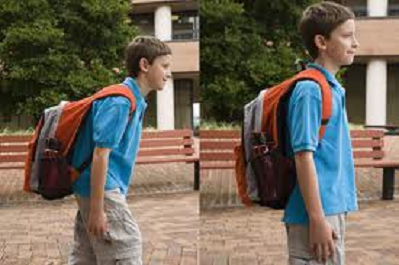 As the end of summer vacation nears and the new school year begins, students are preparing for a successful new academic year. As parents and children are planning their "back-to-school" lists, Dr. Jeff McQuaite of Azzatori Chiropractic-Doylestown is urging them to keep backpack safety in mind and to work as a team with Central Bucks Schools to "lighten the load".
Weighty backpacks have received increasing attention in recent years as the persistent cause of back, neck, and shoulder problems in kids. Research suggests that children with back pain often develop chronic symptoms lasting into adulthood, making it all the more important to tackle back and neck pain early in life. Since if they are left it could lead to more problems when they are older. to find out more, you might want to check out them out at this website.
According to Lisa A. Haney, Director of Rehabilitation Services at Pennsylvania Hospital, "More than 40 million U.S. students carry backpacks, and most of them are unaware that overloading them or carrying them incorrectly can set them up for a lifetime of problems," says Ms. Haney. "It's up to parents, teachers and schools to help spread the word about backpack safety and help our kids lighten their loads." About 20 million carry in those packs more than the recommended weigh.
This backpack "overload" sent over 8,000 children last year to hospital emergency rooms for injuries related to backpack. A 2004 study from the University of California showed that 64% of students between ages 11-15 reported back pain from their backpacks, with 21% reporting the pain lasted more than 6 months. Two studies from Boston University showed that 84% of students reported pain and discomfort from backpack usage and another in 2004 published in Work Magazine revealed that 31% of the students reported having difficulty participating in activities as a result of pain. Nearly 25% of students reported having difficulty carrying their books during school because of pain, and 19% reported having difficulty playing sports. To carry your essentials, you should look into the best backpacks for school to help make your choice easier.
It is notable that among the students who reported having difficulty carrying their books, 12% reported carrying their books less frequently. In a recent study published in the journal Applied Ergonomics; 2013, researchers analyzed the prevalence of back, neck, and shoulder pain in 586 schoolchildren aged 12-14 years. They measured children's weight, height, BMI, and the weight of their school. Children reported how they carried their bags (over one shoulder, with both shoulders, or carrying with a hand) and the type of bag they carried (back pack, satchel, or brief case).
The majority of kids (59.6%) reported some type of neck, back, or shoulder pain. More than a third of children (35.3%) reported neck pain, more than a quarter of kids (26.2%) had low-back pain, and 33% of children had shoulder pain.
Dr. McQuaite notes "Each year, I grow more concerned as I see more and more children with problems associated with backpacks. Complaints include back pain, headaches, neck and shoulder pain, and numbness into the arms and hands. Studies show a direct connection to these problems being associated to overloaded and ill-fitted backpacks. The body is trying to compensate for the change caused by the backpack's added weight. The spine in particular can be affected as it bends and twists to reposition this added backpack weight. When this happens pain usually results."
Other problems associated with backpack overload are conditions called "Cervicobrachial syndrome and or Thoracic Outlet Syndrome". A heavily loaded backpack causes the shoulder straps to compress delicate nerves, arteries and veins passing underneath. This can lead to numbness and tingling in the arms.
Dr. Jeff says "A lot of these problems can be addressed by using proper body mechanics. While they may not be "cool", it will help prevent the possibility of long term damage."
In an effort to cut down on the number of these injuries, Dr. McQuaite offers parents the following backpack safety advice:
Never let a child carry more than 10-15% of his or her body weight.
Load heaviest items closest to the child's back and arrange books and materials to prevent them from sliding.
Always wear both shoulder straps. Wearing only one strap can cause a child to lean to one side, curving the spine and causing pain or discomfort.
Select a pack with well-padded shoulder straps. Too much pressure on shoulders and necks can cause pain and tingling.
Adjust the shoulder straps so that the pack fits snugly to the child's back. The bottom of the pack should rest in the curve of the lower back, never more than four inches below the child's waistline.
Use the waist belt, if the backpack has one, to help distribute the pack's weight more evenly.
Check what your child carries to school and brings home to make sure the items are necessary to the day's activities.
If the backpack is too heavy, consider using a book bag on wheels if your child's school allows it.
Choose the right size pack for your child's back as well as one with enough room for necessary school items.
If a student is experiencing back pain or neck soreness, consult your physician or chiropractor.
Dr. McQuaite also points out that parents shouldn't put a child's name on the outside of a backpack, for safety reasons: When the child is walking home from school, you don't want a predator to be able to call him or her by name.
He also recommends that parents put their child's contact information somewhere in the bag, just in case anything happens to them.
Dr. Jeff McQuaite, the local doctor for Backpack Safety America is pleased to announce that September 18 has been declared National School Backpack Awareness Day.