Dr. Jeff McQuaite and His Team At McQuaite Chiropractic Center Want You To Experience A Life Without Pain
Our purpose is to provide a comprehensive solution to resolving problems related to structural abnormalities in the spine and nervous system, allowing your body to work as it was designed.  By focusing on you rather than merely your problem, we are able to hep you regain the health and function you may have lost.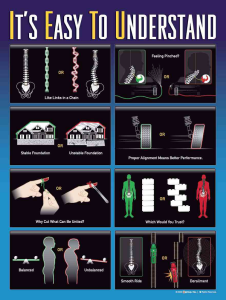 Dr. Jeff McQuaite and The McQuaite Chiropractic Center are committed to enhance the quality of life and promote better health within our neighborhood.
We strive to maintain a philosophy that our patients deserve the highest quality of chiropractic care at a reasonable price accompanied by impeccable service.
The doctor and staff worry about you first, fees second.
We believe chiropractic care belongs to everyone, not just people with money or those with "good" insurance.  If you genuinely give people the very best care, that is of far greater value than the fee you charge.  People will not only appreciate you for it, they will tell their family and friends about you.  McQuaite Chiropractic is recognized as a company that shows concern for and contributes to our community.  Through a long-term commitment to this mission, we will be known as an office that values and respects all people.
Dr. Jeff McQuaite